As electric vehicles grow in popularity ahead of the 2030 ban on new petrol and diesel vehicles in the UK, our distribution partners have been sharing the top queries they get asked by businesses and end users up and down the country!
As specialists in the manufacture of brake pads and top brake pads suppliers internationally, the Frontech team have all the answers to your queries below. (If you have additional queries about our product range, please contact our team.)
Which company has the best brake pads?
The Frontech team have a wealth of knowledge and training when it comes to engineering high-performing brake pads and brake parts. We hold internationally-recognised certifications including (but not limited to), IOS/TS16949, TÜV, ECE R90, AMECA, and others; making us one of the best in the world. As we manufacture brake pads using the same service line as many OEM suppliers, our customers trust our products to (at minimum) meet OEM brake pad standards. Some of our products even exceed OEM standards – please enquire to find out more.
What kind of brakes do EV cars use?
Full EV vehicles (such as the MG 4, Kia Niro EV, and Renault Megane E-Tech) and plug-in hybrid models (such as the BMW 330e, Hyundai Ioniq Plug-in, and Volvo XC60 Recharge) use a type of braking mechanism known as regenerative braking. This allows the vehicles to convert movement (kinetic energy) into electrical power and charge the vehicle's high-voltage battery (the vehicle's power source) whilst driving. You may notice regenerative braking kicking in when driving down a slope or hill, as well as when manually braking using the brake pedal.
How long do EV brakes last?
Impressively, despite the increased weight of electric cars, some EV brake pads can last up to 112,600 kilometres (roughly 70,000 miles) before replacements are required! Learn more in our hybrids and EVs FAQ blog post.
Do EV cars use brake pads?
They do! Although EVs benefit from regenerative braking, they still have a brake pedal with a hydraulic brake system which includes brake pads that press against the brake disc in order to stop the vehicle. Under normal conditions, and especially when driving in urban areas, many drivers may not need to use their brakes as often as on a petrol or diesel car, but they will still brake like any other automatic vehicle. The brake pads will, however, wear less quickly as the regenerative braking uses a motor, so EVs will not use their brake pads if regenerative braking is activated.
Does Tesla use normal brakes?
Tesla vehicles use regenerative braking much like any other EV or plug-in hybrid, so the brakes and brake pads on a Tesla will be very similar to those of other electric cars. As for their lifespan – we'll let Elon answer this one!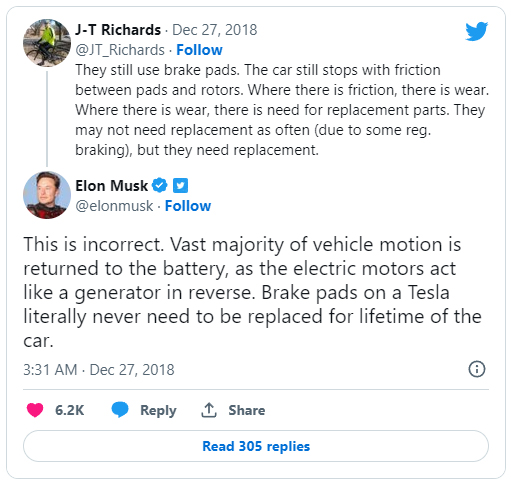 Looking for a new brake parts supplier? Contact our team today!
We're a trusted brake pads wholesale supplier with a 5* rating on Google and Alibaba (as well as having a 100% on-time delivery rate!). Contact us any time via our contact form, via email at sales@frontech.com, or by sending us a message on WhatsApp at +86 1531 832 9151 where a member of our team will be happy to assist. We are open from 8am to 5:30pm Monday – Friday and aim to get back to all enquiries within 24 business hours.